It's been a good start to 2021 on the betting front.
Nearly everything made a profit and I continue to run well on casino offers.
Not much else to add really, with lockdown things are pretty boring but having betting stuff to do on a daily basis keeps things ticking over.
Let's take a look at the results from the first month of 2021.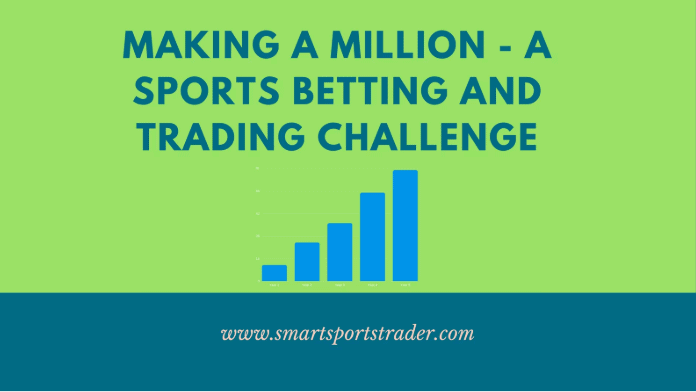 Value Betting, Matched Betting And Arbitrage 
Last month was a losing month for this set of strategies and value betting especially struggled again early on.
I do very little matched betting now apart from Bet365 offers and a small amount of arbitrage.
Which is much less now as the account I was mainly using for arbitrage has put a loss limit of £200 a month on my account.
This bookmaker normally gives very small arbs which I had been happy to take. However now I can only stake £200 for example on a 1.33/1.32 arb. Which is pretty annoying especially if it loses and I have to leave the account alone for a month.
My hope is that this does not becoming the norm for sports betting in the UK.
So its pretty much 90% value betting at the moment which opens you up to variance.
The upswing at the end was due to winning a 2up bet on Kilmarnock (This is when Bet365 pay out if a team leads 2-0, if the team blows the lead which Kilmarnock did you get paid out on both your win bet and lay bet.)
This is a matched betting strategy, click here to learn more about matched betting.
In January a total of 303 bets were made in.
A total profit of £538 was made.
Learn About Value Betting And Arbitrage Below
Advantage Play – Casino Offers
The casino Gods were kind again this month despite a drop in volume.
I do feel like I am running pretty well at the moment with casino stuff and imagine that a correction will happen in the near future.
However when the good times come you have to enjoy them.
There were no major wins this month, just a few similar to the one below which all added up at the end of the month.
During January I did 101 casino offers.
A total profit of £1007 was made.
Sports Betting Results
January was a really good month for my own personal sports bets, which focus mostly on the MMA markets.
Again I felt like I got some good luck this month.
Split decisions went my way and a few prop bets with big odds came in.
In total there were 22 bets in January.
A profit of £858 was made.
The Basketball Geek Results
I like the Basketball Geek but it is becoming harder and harder to get close to the quoted odds.
The Basketball Geek sends selections at 8.00, I am normally betting them within 10 minutes at most but it does not seem quick enough at the moment.
Going to continue with this tipster because results have been excellent and perhaps start looking to leave prices up on the exchanges or see later in the day if prices bounce back.
This month I bet 60 selections.
A loss of £112 was made.
Read Our Review Of The Basketball Geek Below
Free Tipster Experiment
The free Tipster Experiment continued in January and results were good.
It's a simple concept, I have looked to find some of the best free tips available and I stake to win around £50 each time (Not always exactly £50).
Always taking at least the recommended odds.
The tipsters that I am following tip selections that can be bet on using Asian Connect or with the betting exchanges.
Not choosing any tipsters that are using solely soft bookmakers as I want to be able to get on bets without the worry of restrictions.
The hope is that if its shows to be profitable, I will be able to scale it up.
Most of the profit came from a strong last weekend of the month.
Nigel Seeley from the Trademate podcast had a cracking end to the month and Demetrio Giotti from SBC was another tipster that did really well.
I am also taking bets from a few football tipsters on Betmarkets that tip in the bigger leagues. Who also finished the month strong.
Be interesting to see if this will be a profitable long term strategy. Would like to get to at least a thousand bets before I break things down into average odds, roi etc.
I often miss bets and its not the most refined strategy yet but next month I will write up a list of all the tipsters I am using.
In total there were 128 bets in January.
A profit of £716 was made.
Trading 
Didn't do a whole lot of trading in January.
Home schooling is taking up a lot of time during the week and at the weekend I am normally pretty busy value betting.
Made some profit trading Mcgregor vs Poirer in the days leading up to the event as it was pretty much one way traffic on Mcgregor up until fight day.
Overall it was a pretty uneventful month on the sports trading front.
In January I made a profit of £202 from trading.
Thoughts Going Forward
Overall it was a really good start to 2021, with the monthly profit being above average.
My long term plan is and has been for the last several years to use sports betting and trading as a way to reach financial independence. 
Fingers crossed that regulation doesn't get in the way and this goal continues to look achievable.
In terms of strategies and services used I don't intend to change much. 
Like I wrote earlier I will carry on with the free tipster experiment and assess things after a few more hundred bets. 
All the other strategies are proven to be profitable so its just about getting as much turnover in these area's as possible.
I have a long term investment in Betmarkets which isn't doing very well at the moment. 
My £1000 initial investment is down around £200.
However I have seen with my own value betting drawdown periods and the people behind Betmarkets have made it clear Betmarkets is a long term investment. That should be looked at in a similar way as an index fund would.
So its not something to tinker with every month and dip in and out of.
Happy to leave it for now and then revaluate things in a few more months.
Results For January
Value Betting, Arbitrage, Matched Betting –
£538
Advantage Play – Casino Offers
£1007
Trading
£202
Sports Betting
£858
The Basketball Geek
-£112
Free Tipster Experiment
£716
Total Made In January
£3209
Overall Profit Since The Challenge Began
£106,340
Remaining Target
£893,660
Services Used
In this section is a list of the services that I have used this month. To be transparent I do have affiliate deals with these services. Which means should you subscribe to them through a link on this site I will receive a commission. This does not come at any additional cost to you. In fact with some of these services I have negotiated discounted prices for readers of smartsportstrader.com.
Recommended For Matched Betting/ Value Betting/ Arbitrage
Oddsmonkey Matched Betting And Arbitrage Software (Click Here For A Free Trial)
Subscription Cost – £12.50 a month (Annual Subscription)
If you comment "Smart Sports Trader" in the chat when you sign up for a Trademate Sports trial. You will get an extended two week trial and also a 10% discount off your first month.
Trademate Sports Value Betting Software –  Click Here For A Two Week Trial)
Subscription Cost – £110 a month (Monthly)
Recommended For Exploiting Casino Offers
(Readers of smartsportstrader.com can get the first month half price using the link below)
Bonus Accumulator (Click Here)
Subscription Cost – £12.50 a month  (Annual Subscription)