Watching and betting on football for a living is probably the dream job for thousands if not millions of people. However actually making long term profits from betting on football is much harder then it sounds.
The majority of the most popular tipsters on twitter, are actually more interested in providing you with losing tips. 
Readers of this blog will know all about social media tipsters.
Like the Badman Tipster and how they operate.
So who are the best football tipsters on twitter?
Below are some of the very best accounts that I have found for football betting on twitter.
Who Are The Best Football Tipsters On Twitter
I first came across Mark Stinchcombe on the Matchbook betting podcast.

His approach to football betting and analysis immediately made him stand out as someone that approached betting professionally.
Mark continues to share his tips now on the Betfair football betting podcast.
If you are looking for someone that approaches their football betting professionally and gives out solid reasoning for why a bet looks to be value.
Then Mark Stinchcombe is someone that you should be following.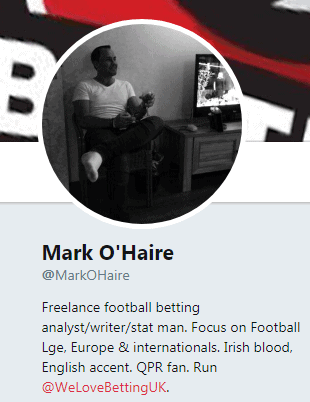 Mark O'Haire is a football analyst and writer.
Providing write ups for the likes of 188bet and Matchbook.
I first came across Mark's work from his excellent write ups for the broker Eastbridge. Often highlighting value in the Asian handicap markets.
Mark currently gives out excellent advice on the weekly Matchbook podcast. Specializing in European football he often finds excellent value bets to follow.

If you are looking for free football tips from one of the best football tipsters around. Then Mark O'Haire is someone that you should definitely be following on twitter.

Bet On Value is a very low key twitter tipster that consistently gives out excellent advice. Finding value bets in various markets.
He provides bets that are always backed up by excellent advice. Again you won't find any silly £10-£1000 challenges with affiliate links attached to them.
What you will find is a solid approach to picking value bets from the world football markets.
If your looking for a free tipster that is able to find value from al manor of football betting markets. You could do a lot worse then following Bet On Value.
Run by the previously mentioned Mark O'Haire.
The We Love Betting twitter account has some excellent football betting previews. With numerous football tipsters providing free picks across a range of football competitions. Betting previews are often backed up by excellent analysis.

They are an excellent resource when looking for well researched football tips.
Neil Macdonald is an experienced football tipster that has been profiting from the major football markets for a number of years.
Bookie Insiders is Neil's paid service and has made an impressive profit of £21,728 after 5316 bets over an 8 year period.
Click Here To Read Our Bookie Insiders Football Service Review
However Neil also frequently gives out free tips from his service on twitter and also indicates selections that he thinks may have value.
Looking to follow an established football tipster that is profitable long term?
Then Neil Macdonald is another one of the absolute best to follow on twitter.
Click Here To Receive Free Betting Tips From Proven Winning Tipsters
The Best Football Tipsters On Twitter
Even the best betting tipsters suffer losing runs and you should always make sure you have a solid staking plan in place.
The five tipsters above stand out as some of the best on twitter.

All of the tipsters above take an intelligent approach to football betting.
Each with solid reasoning and a real understanding of how to find value in the football betting markets.
Interested in other profitable betting tipster?
Click here for our list of best tennis tipsters
Click here for our list of the best basketball tipsters
Here is the top Biathlon Tipster we have come across.