May brings month 74 in the "Making A Million Challenge."
It was pretty poor month overall with a very small profit of £216 being made. To mix things up a bit and keep it interesting.
I will break down my results for the whole of 2023 so far.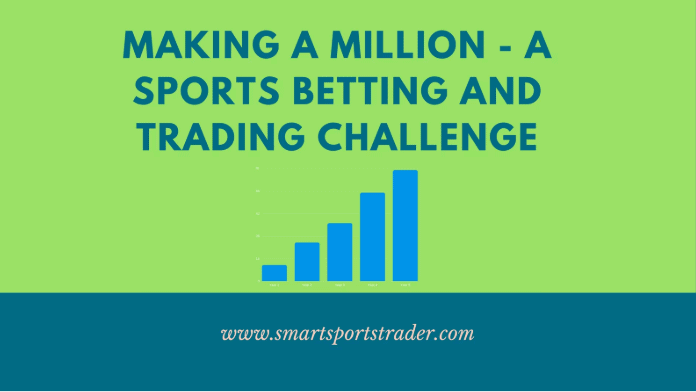 Value Betting And Trading
First off we have value betting.
Value betting is placing bets with the aim to beat the closing line. Previously this was done mostly with bookmakers however now it is mainly on exchanges.
Alongside the occasional shop bet.
Looking at the graph you can that approaching close to 900 bets this strategy wasn't in profit. The next couple of hundred bets it had a sharp rise in profit and then has been a bit up and down for the rest of the year.
Last year this was the most profitable strategy but this year its underperformed slightly. I think its just a case of putting in as much volume as possible. There is no real reason for it underperforming other then variance.
This year a profit of £4215 has been made after 1527 bets.
Not Familiar With Matched Betting Or Value Betting ?
Read Our Guides Below
MMA Betting
Moving on to mixed martial arts betting, which has been pretty decent this year so far.
After 37 bets a profit of £1396 has been made.
Not a lot to add really. Don't put a huge amount of volume through the MMA market, tend to try to pick what I think are the best spots. 
Previously I had been sending out bets on Discord for free but haven't the last couple of months. Mainly just due to not remembering and I don't use Discord for anything myself, it's just ben forgotten in the background for a while. Might set something up on telegram as I am pretty active there with other betting services.
Bets And Beers Telegram Group
Bets and Beers is a service that provides selection for lay the draw.
The service provides multiple approaches however I just use the lay the half time draw strategy. Staking £50 per selection, the first 70 selections were £20 stakes as I was still testing the service at this point.
Bets and Beers has run pretty well this year as you can see. Hitting £3500 profit for the year at one point before running in to a few losers in the last 150 bets or so.
A profit of £2890 has been made from 400 bets.
FTS Ultimate
For FTS I run 4 season long betting systems. These are set and forget systems which are placed pre match. All of the systems are run on Betfair.
Let's break down the results for 2023.
System 1 (Lay Draw), Stakes – £50 lay bet,  Results = £901 (97 bets)
System 2 (Form based system) £50 to £100 lay bets, Results = – £1600  (185 bets)
System 3 (Poisson)  £120 back bets, Results = £1875 (92 bets)
System 4 (Underdog System) £10 to £30 back bets, Results = -£329 (27 bets)
Total – £847
Everything Else
There are a few other strategies I use that are lower volume so I will just group them together.
This is casino offers, in-play trading and free tipster bets that I might place. All of these get added to my overall daily total but I am not always meticulous in recording them down.
It accounts for a profit of £2418.
2023 Total (Up until June 2023)
FTS – £847
Bets and Beers – £2890
Value Betting/Trading – £4215
MMA Betting – £1396
Misc – £2669
Total Made In 2023 so far

£12,017
Overall Profit Since The Challenge Began
£180,098
Thoughts Going Forward
At this stage last year profits were double what they are currently in 2023. Which is a little disappointing as we always want to see progression. However with betting sometimes it requires some patience.
Strategies are very similar to last year with a couple of additions. Staking roughly around the same amount of money, so I think the difference is largely down to variance. I ran extremely well in the first 5 months of 2022 whilst in 2023 there have been a few slim months.
The season for all the big leagues has ended now and its a good time to look at finding new edges for the coming season.
I have been dabbling with football bet data for a couple of weeks which looks interesting and is something I will use for next season. Football Trading Club is another service I have been following for a few month, results have been very good and they provide selections for the summer leagues.
Profiting from the horse racing markets is something I want to get back to doing. Now it is quiet with football I am going to test out a few tipsters/services and might even get back to trading it if I can find the time.
If anyone has any recommendations, pop them in the comments.
Thanks as always for reading!