April marks month 73 in the "Making a Million Challenge".
It was a strong month overall, the major leagues start to get interesting as teams fights for championships/promotion/relegation. Which can see some big changes in odds movement week to week.
Let's get on to the results for April 2023.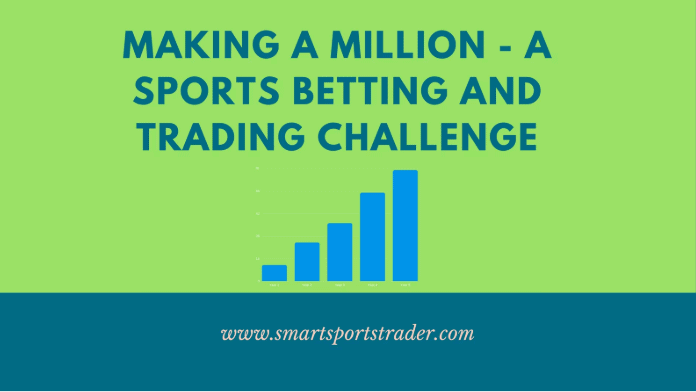 Value Betting And Trading
Value betting performed pretty well in March.
The month started very strongly getting close to a profit £3500 before a late month downswing took it under £2000. 
Not a huge amount to say other then it was a solid month. 
At this point a lot of my value betting is just repetitively looking for the same things in the market and making the bets. It is all aimed at beating the close line either through straight up value bets or pre-empting moves in the market.
After 343 bets a profit of £1862 was made.
Not Familiar With Matched Betting Or Value Betting ?
Read Our Guides Below
MMA Betting
Having a bookmaker that will take my action on MMA has been a nice addition.
Akbet.bet is a newish bookmaker that's looking to take sharp action. They also offer prop markets which is enabling me to get money down. Limits aren't huge but it is nice just not to get closed or limited to pennies after a week or two of betting.
There were 9 bets for MMA in the month of April, a profit of £685 was made.
Casino Offers
Oddsmonkey have put more focus on exploiting casino offers recently. I decided to have a look at at what offers were available in the current market.
I only did 6 offers this month but ran very well and made a profit of £685.
Casino offers at one point were my biggest earner but in all honesty they can be very boring and some offers are quite time consuming.
Writing this in May I have been doing offers but cherry picking the ones that are high value and don't take up too much time. Which for me is the best strategy.
Want to learn plus ev casino strategy read our guide here
FTS Ultimate
For FTS I run 4 season long betting systems. These are set and forget systems which are placed pre match. All of the systems are run on Betfair.
Let's break down the results.
System 1 (Lay Draw), Stakes – £50 lay bet,  Results = £241 (22 bets)
System 2 (Form based system) £50 to £100 lay bets, Results = –£775  (49 bets)
System 3 (Poisson)  £120 back bets, Results = £876 (24 bets)
System (Underdog System) £10 to £30 back bets, Results = -£150 (8 bets)
Total – £192
Bets And Beers Telegram Group
Only playing the set and forget HTLTD system at the moment with bets and beers.
Along with a couple of the horse racing lays. I do however keep forgetting these as they are not as frequent.
At the end of the season will reassess the other systems he uses and look at setting up a bank for each.
Great results in April staking £50 per lay.
A profit of £1409 was made after 103 bets.
-£124 was made following the lay selections on horses.
In-play Betting And Trading
Decent month for in-play betting and trading. Hit a big winner at odds of 50 to win over £1k, which is a figure that I haven't won very often from one bet.
Despite that one big winner the total profit for the month was lower then that figure. The 0-2 score line is one that I like to look at often. If the home team gets one back, the crowd get's behind them and you usually see a late push for an equalizer.
A total of £742 was made from in-play betting and trading this month.
April Totals
FTS – £192
Bets and Beers – £1285
Value Betting/Trading – £1862
Casino Offers – £685
MMA Betting – £685
In-play Betting And Trading – £742
Total Made In April

+£5451
Overall Profit Since The Challenge Began
£179,858
Thoughts Going Forward
April marked the best month of the year so far. It was an odd one with a big of profit coming in the first 9 days of the month. Then I have gradually lost money day by day for the following 3o days (writing this 10 days into May where I have continued to lose).
Goes to show how volatile results can be with value betting/trading. 
I am not doing anything different at all. The process is exactly the same however results have been vastly different. Think this is one of the key factors in winning long term, focus on the process and let the results play out over the long term.
Been doing this long enough now to know that results will turn again.
Still waiting to move house. Which means I won't be changing much up betting wise or adding anything.
Should all be wrapped up within the next month which is decent timing as football winds down. Then can look at the bankroll and have a think about how to approach next season.
Hope you had a profitable April.
Thanks for reading, see you next month!