We roll onto month 71 in the "making a million challenge" and 2023 started off with a bit of a whimper.
In January a small profit of £704 was made.
Did February mark an improvement? let's take a look.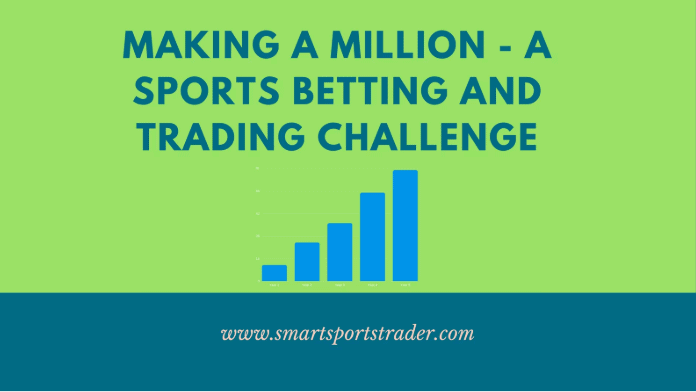 Value Betting And Trading
Got to admit value betting can be frustrating at times.
You make the right bets, beat the closing line and lose. On to the next week, hammer the closing line, make the correct bets. End up losing a big chunk of money.
That's been the recurring theme this year so far. The bets with the biggest edges just aren't coming off.
Whilst annoying, there is nothing to do other other then have some patience and wait for the results to change. Been doing this long enough to know that results will come good eventually.
Despite my whining Feb was actually a profitable month for value betting.
After 271 bets a profit of £479 was made.
Not Familiar With Matched Betting Or Value Betting ?
Read Our Guides Below
MMA Betting
Low volume month for MMA betting. There were a few prop bets and in-play bets however for the bets I send out on Discord there were only 4.
Having very few bookmaker accounts makes it difficult to place prop bets on UFC. Usually have to throw bets up on the exchange and hope that they get matched on fight day. Which is why the focus is mainly on fight result bets.
Overall -£170 was lost betting on MMA.
FTS Ultimate
For FTS I run 4 season long betting systems. These are set and forget systems which are placed pre match.
Let's break down the results.
System 1 (Lay Draw), Stakes – £50 lay bet,  Results = £92 (36 bets)
System 2 (Form based system) £50 to £100 lay bets, Results = -£712  (50 bets)
System 3 (Poisson)  £120 back bets, Results = £308 (23 bets)
System (Underdog System) £10 to £30 back bets, Results = -£95  (5 bets)
Total – -£407
Bets And Beers Telegram Group
Stormer of a month for Bets and Beers which made the majority of my profit for the month.
I follow the lay the half time draw method staking £50 per bet. Along with the horse racing bets where I risk £200 liability per bet.
The half time lay results made a profit of £1692 this month.
Horse racing lays made £213.
A total profit of £1905 was made.
Not much to day on this other then it was a cracking month. Bets and Beers has been a standout service for me and long may months like this continue!
In-play Betting And Trading
Writing this 10 days into March and to be honest I don't remember much at all about last month. Did some in-play betting on football which went ok from the looks of it and won on the boxing.
Finally got a pay off fading Jake Paul after losing a decent amount backing Anderson Silva last time out. Good to see him against a real boxer of a similar size and age.
He was well beaten against Tommy Fury. I imagine he will go back to fighting youtubers and MMA fighters past their best after this lesson.
Feb Totals
FTS – -£407
Bets and Beers – £1905
Value Betting/Trading – £479
MMA Betting – -£170
In-play Betting And Trading – £1023
Total Made In February

+£2830
Overall Profit Since The Challenge Began
£171,842
Thoughts Going Forward
A very solid month of profits obviously owing a lot to the performance of Bets and Beers.
Just waiting for value betting results to turn up a notch and hopefully can hit some big profits again this year. In terms of adding anything new to the portfolio. There is nothing that I am looking at currently.
In the middle of moving houses at the moment which is going to take a big chunk out of the bankroll. Unlikely to change anything until that is done and dusted. After that can reassess things and see if anything that looks promising can be added.
As always thanks for reading, see you next month.