December capped off month 70 in the "Making A Million Challenge."
It was a frustrating month at times and after the first 20 days of 2023 I was in a -£2000 hole. In the long term results over a 20 day period don't really mean much.
However I did feel an expectancy to start the year well. The betting gods clearly though don't give a fuck about how you feel the year should start and hey why should they!
So I sucked it up and just kept doing what I normally do. Which normally produces a profit at the end of the month.
Let's dig into results for January.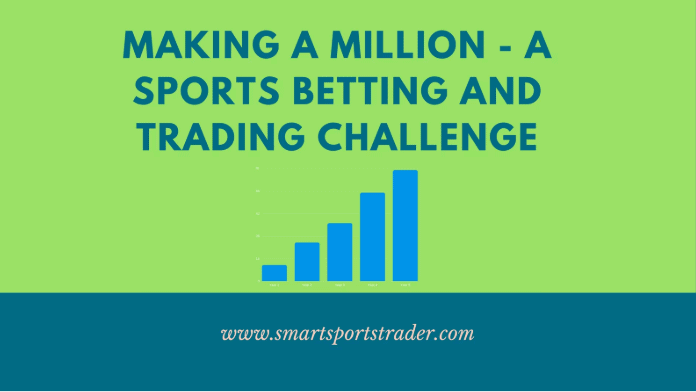 Value Betting And Trading
Read the markets pretty well this move in terms of getting value against the closing odds. Consistently getting closing line value which in turn should equal a profit. However it doesn't guarantee it.
Closing line value is the odds a bettor gets relative to the closing odds. If they beat the market closing odds, they got positive CLV. If the market beat them, they got negative CLV. Beating the market means getting a better odds than the closing odds at sharp bookmakers.
January ended up being a losing month.
After 319 bets a loss of -£1411 was made.
Not Familiar With Matched Betting Or Value Betting ?
Read Our Guides Below
MMA Betting
I made one solitary bet on MMA in January, which was Gilbert Burns to win inside the distance.
The reason for the low number of MMA bets was a lack of UFC cards and the poor quality of the cards. Probably due to not being able to get downs bets until a day or two before events start (no soft bookmakers) and the time it can take to watch tape on lesser known fighters. I just didn't have much inclination to delve deep into the last few cards.
This weekend however is a huge card with decent money already available on Betfair so this will pick up.
A profit of £220 was made betting on MMA.
FTS Ultimate
Slight change this month to FTS as I started using the poisson database to place bets.
This added one more system but also meant at times it conflicted with an under 2.5/3.5 goals system that I had been using.
I made the decision to drop the goal system and follow the poisson due to the results I have had. One system has been very profitable whilst the other has just consistently lost this season. This may be a bit short sighted but I feel less conflicted about selections and can reassess at the end of the season.
Let's break down the results.
System 1 (Lay Draw), Stakes – £50 lay bet,  Results = £572
System 2 (Form based system) £50 to £100 lay bets, Results = -£208
System 3 (Poisson)  £120 back bets, Results = £806
System (Underdog System) £10 to £30 back bets, Results = -£100
Unders system (No longer using) – £22
Total – £1092
Bets And Beers Telegram Group
Rough month for Bets and Beers and had a few messages about it after I highlighted as a service that I use last month.
All I can say on the matter is that all services/methods/strategies have losing periods. If you are going to try and make money doing this its something you have to accept. If you choose to follow a service then make sure you understand that. 
historical results
Look at the historical results, its plain to see that there has been losing months but long term the service has been solid. Does that guarantee it will win in the future? no nothing is guaranteed.
However accept that you made the decision to follow the service, you decided the stakes. Nobody forced you into anything and ultimately take responsibility for own betting.
Missed quite a few bets this month for the horses and also for the in-play lay the draw when its a triggered at half time.
Decided to adapt my approach going forward and increase stakes but only play one strategy. The strategy I will follow is laying the half time draw, stakes will go up from £20 to £50 per bet.
My reasons for this are that although all strategies have shown to be profitable, I like laying at lower liabilities. Whilst the straight up LTD from kick off can be fairly high odds. Again this is just my personal preference if you follow the service do what suits you. I will also leave the in-play lay the draws alone just because I know that I can't follow them all.
A loss of -£141 was made from this service.
In-play Betting And Trading
Decent but not spectacular month for in-play betting and trading. One of the better trades I had this month was laying Gillingham when they managed to go 3-1 up against Swindon.
Thankfully Charlie Austin came to the rescue and bagged a few goals to seal the comeback.
Overall a profit of £944 was made from in-play betting and trading.
Jan Totals
FTS – £1092
Bets and Beers – -£141
Value Betting/Trading – -£1411
MMA Betting – £220
In-play Betting And Trading – £944
Daily P/L
Total Made In January

+£704
Overall Profit Since The Challenge Began
£169,012
Thoughts Going Forward
Not the best start to the year but not terrible either. 
I know that the way I approach betting works and that it just requires some patience to see the results sometimes. In terms of new strategies or services that I am looking at. Been looking into some horse racing services again as I do like the day to day nature of horse but I also don't want to spend all day in front of the computer (horse racing trading).
Exponential bet looks interesting, this an automated horse racing service. If anyone has any feedback I would welcome it. 
Another service I have been testing the waters with is Systematic betting. The main issue that most horse racing tipsters have is matching the quoted odds especially when using Betting exchanges but have had success with small stakes so far.
Thanks for reading hope you had a profitable Jan!