2023 rolls on and its month 72 of the "Making A Million Challenge."
+£704 was made in January, +£2930 in February got the year rolling. 
Let's get on to the results from March.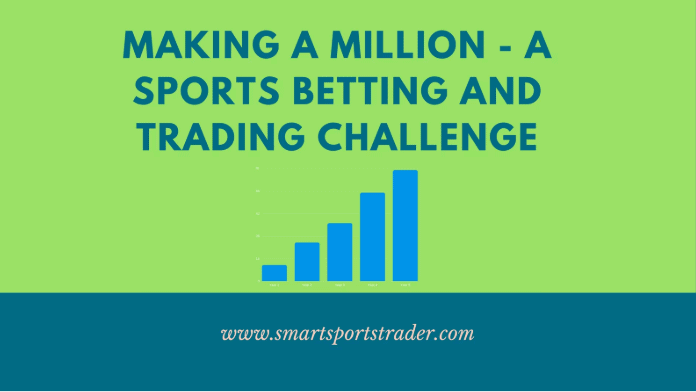 Value Betting And Trading
March brought the first month of the year where value betting made a decent profit.
From the graph you can see it was fairly volatile at times. Weekends are when most of the bets are active and Sat/Sun often define how the month ends up.
Despite a fairly swingy month in terms of results it ended in the positive.
A profit of £1845 was made after 329 bets.
Not Familiar With Matched Betting Or Value Betting ?
Read Our Guides Below
MMA Betting
March was a good month for MMA with the long awaited return of Jon Jones and the big Usman vs Edwards rematch. Felt pretty confident that Cyril Gane would give Jones a decent test at heavyweight after a few years out.
So when Jones took Gane down with relative ease and submitted him inside a couple of minutes it was pretty embarrassing.
Overall a profit of £405 was made from MMA betting.
FTS Ultimate
For FTS I run 4 season long betting systems. These are set and forget systems which are placed pre match. All of the systems are run on Betfair.
Let's break down the results.
System 1 (Lay Draw), Stakes – £50 lay bet,  Results = -£5 (18 bets)
System 2 (Form based system) £50 to £100 lay bets, Results = £565  (37 bets)
System 3 (Poisson)  £120 back bets, Results = £129 (17 bets)
System (Underdog System) £10 to £30 back bets, Results = -£180 (10 bets)
Total – £509
Bets And Beers Telegram Group
Bets and Beers followed up February's stormer of a month with a solid one in March.
I follow the lay the half time draw method staking £50 per bet. Along with the horse racing bets where I risk £200 liability per bet.
The half time lay results made a profit of £347 this month.
Horse racing lays made -£84.
A total profit of £263 was made.
Profitable month for the service to build on the big profit made in Feb. Not much to add, good results from a solid service that's one I will be following for a long time.
In-play Betting And Trading
Had a mixture my own In-play betting, Bets and Beers new in-play service and had a look at The Football Trading Club in March.
In the future I will probably to start recording these all separately as the amount of volume that I'm betting in-play has increased by quite a lot.
It was a losing month for me in this area, despite a profitable month recorded for Bets and Beers live. This was due to missed bets and staking on some of my positions being bigger.
A loss of -£457 was made from in-play betting trading this month.
March Totals
FTS – £509
Bets and Beers – £263
Value Betting/Trading – £1845
MMA Betting – £405
In-play Betting And Trading – -£457
Total Made In March

+£2565
Overall Profit Since The Challenge Began
£174,407
Thoughts Going Forward
Still waiting for our house move to go through at the moment. Which means I am holding back on increasing stakes until its done and dusted. In case any additional costs arise which is probably likely when solicitors are involved.
Overall though this year has started pretty well. It's looking like last year I probably ran above expectation and results this year seem to be more in line with previous years.
Not looking to change much up at the moment. Once the house deal is done, my intention is to scale up my stakes and bet more aggressively. The last few years of betting/trading profit have been going towards the house move. Wary that a downswing or bad year could put me a year or two back from buying a new house meant staking very safely.
However with this looking to be done soon, pushing on towards that £1,000,000 target could become more interesting.
Thanks for reading, see you next month!