Value betting or finding value in the sports betting markets, is the only way to make money long term from sports betting.
In this article we are going to look at one of the best methods for finding value in the sports betting markets. Whether your betting football, tennis, horse racing, NFL, boxing.
You name the sports, value betting works!
One of the big benefits of this method is that it allows you, to get a large amount of volume through the markets. Whilst having a consistent edge. 
This method is also very easy to understand.
Value Betting Explained
First off what is value in the sports betting markets?
Quite simply getting value in the sports betting markets is backing something that is estimated to have a greater chance of happening then the odds indicate.
Lets look at a simple example.
Man United are priced at 2.0 (indicates a 50% win chance) against Everton at home.
The best betting syndicate in the world estimate that Manchester United are actually a 55% win chance. 
Meaning they believes that Manchester United's true odds should be 1.82.
This means odds above 1.82 are deemed to be value, with odds of 2.0 being extremely good value.
If you are consistently betting odds that are priced higher then there true probability, you will make money long term.
However the hard part of finding value in the sports betting markets is coming up with a true estimation of what the odds should actually be.
Some of the biggest betting syndicates in the world have hundreds of people working for them. Analyzing every bit of data available to them in order to make profitable bets.
In this article we are going to look at a proven method for finding value in the sports betting markets. This method allows us to mimic the bets made by these successful betting syndicates.
Sharp Bookmakers And Exchange Method
One proven way to find value in sports betting is by using sharp bookmakers and betting exchanges as an indicator for value.
Professional bettors separate bookmakers into two categories.
Sharp and Soft.
A soft bookmaker is one that does not want professional bettors, they only want losing recreational players that they know in the long term will make them money.
This is why some bookmakers close players accounts or limit their betting stakes to very small amounts.
Sharp bookmakers allow winning sports bettors to bet with them. They let sharp bettors influence their odds movement and rely more on profiting from the turnover they get from the betting markets they provide.
Betting exchanges follow a similar model charging on a commission basis and allowing professional punters to bet with them.
This means that professional sports bettors bet at sharp bookmakers.
Soft bookmakers often imitate the movement of sharp bookmakers and betting exchanges. However they are slower to adjust their betting odds.
This method of value betting takes advantage of this.
Value Betting Strategy 
If you follow the money from the sharpest sports bettors in the world then you are going to make money from sports betting.
That is the essence of this strategy.
Consistently beat the closing odds of sharp bookmakers or betting exchanges and you have yourself a winning betting strategy.
This is known as "value betting" but is also sometimes referred to as "steam chasing"
Now you probably have heard of several betting systems or strategies that sound good in theory but don't actually work.
This isn't just a gamblers fallacy, there is a lot of data to back up this strategy.
Here are the statistics from a company called Trademate which provides software for value betting.
The software constantly scans the sharp bookmakers and highlights when a soft bookmaker is offering higher odds then them.
It calculates if there is value after the betting margin is taken into account and if it is value then it highlights these bets.
You can see that after 2,361,157 bets.
The total profit made by Trademate customers is £4,174,180.
Rebelbetting Value Betting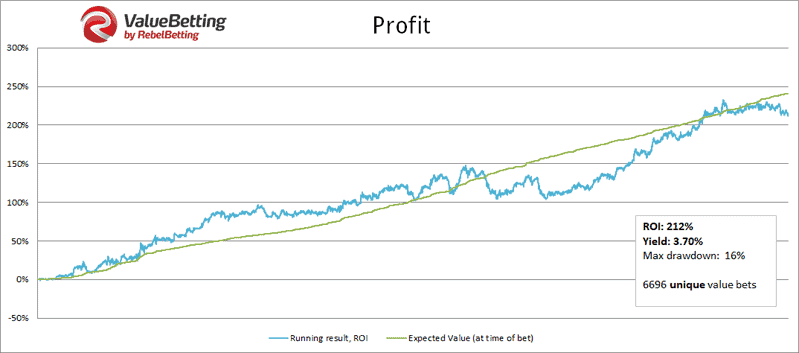 Another company called Rebelbetting uses a similar strategy.
Again using the odds movement from sharp bookmakers to highlight value bets at the soft books in order to beat the sharp bookmakers closing odds.
Their data showed that the average user was able to double there initial investment with value betting strategy after 3 months, placing 30 bets a day on average.
Lastly I will include some data from a website called bookie bashing.
This site also looks at the odds of betting exchanges and sharp bookmakers to highlight value bets at soft bookmakers.
Bookie Bashing focus on price boosts and accumulator boosts to find value in the sports betting markets.
Again the data shows how successful this strategy is with a profit of £11,445 being made after the first 1000 value bets.
My own betting also incorporates the strategy of following sharp betting money very heavily alongside using other methods.
Although this is not the only method I use, value betting has proved to be a very successful part of it.
Alright so we have looked at data from multiple different sources to show that this strategy really works.
Now lets take a look at an actual example.
Value Betting Strategy Example
Borussia Dortmund are taking on Bayern Munich tomorrow.
By using the odds comparison site Oddsmath.com.
I had a look at the current odds available and found a bet which is showing value according to current market prices.
Marathonbet are pricing Borussia Dortmund at 3.88 which is a stand out price compared to the rest of the market.
I took a look at what the current price was on Betfair Exchange which is a sharp market for football betting.
Betting exchanges will often mirror the prices of the sharp Asian bookmakers.
Betfair Exchange showed a back price of 3.8 and a lay price of 3.85. 
This is an strong indicator that currently the price of 3.88 that is currently offered by Marathonbet is indeed value.
Now obviously odds can change. They can drift in price and the bet is no longer seen as value. However they can also shorten in price becoming better value. 
Which is why a lot of bettors that use this strategy, wait until a few hours before kickoff to reduce the chances of the odds drifting out of their favour.
If you are able to constantly find odds that are consistently better then the Betfair lay price on markets with a high volume of money matched (such as Bundesliga.)
Then it is very likely you will make money in the long term.
Value Betting Results
Below are my latest results from value betting.
Running from 2021 to September 2022.
Value betting with soft bookmakers using the Trademate Sports software.
3801 bets – £5568 profit
Value betting strategies on Smarkets betting exchange (Also includes some trading)
£20,011 Profit
(Video proof in the video below.)
Value Betting Tips
So you can see from the above that this is a strategy that really works.
Here are a few tips to get the most from this method of value betting.
Stick to popular sports with high liquidity
The first tip would be to stick to popular sports that have a lot of turnover.
For example the major European football leagues and big American sports. 
The reason for this is that these markets are seen as more efficient due to the large amount of money that is placed on these events.
There is also less likely to be manipulation of these markets as it takes much more money to change the odds of say a Premier League game, compared to the Romanian second division.
Another factor is that a soft bookmaker will likely allow you to bet for longer if you are placing value bets on popular sports. This makes you look like much more of a recreational bettor, rather then somebody that wants to make money long term.
Understand you might have losing runs
Although you are betting with an edge and will make money in the long term. It's really important to know that at times you will go through a losing period.
If you want to avoid losing runs altogether then you can look at arbitrage betting where you lock in a guaranteed profit from every bet. However the flip side to this is that you sacrifice some value long term by placing a bet with a margin on the other side of the bet.
In theory you will make more money long term from value betting but arbitrage is a good option for the risk averse.
(You can read the ultimate guide to arbitrage betting below for more information.)
Bet closer to the start of an event
This was noted earlier, but the closer the start time to the event. The less likely the odds are to move out of your favour.
A strategy some value bettors take is to only place bets 2-3 hours before the start of an event.
Stake appropriately
One of the most important aspects of successful sports betting is to make sure you stake appropriately.
There a lot of different approaches to staking, some prefer to bet with flat stakes whilst others use a proportional staking strategy.
Most of the value betting software providers advise a staking using the kelly criterion. This staking strategy adjusts the amount of your bankroll you bet dependent on the perceived edge of the bet.
Here is a video from Trademate Sports owner discussing the two staking strategies.
Use Value Betting Software
The last tip would be to use Value betting software.
Although you can look for bets manually it can be very time consuming and you will miss a lot of value betting opportunities.
There are several different value betting providers.
Best Value Betting Software
Oddsmonkey
Over the years I have used a number of value betting services.
The first one that we will take a look at is Oddsmonkey.
Oddsmonkey is primarily a matched betting service however it also provides tools that can be used for value betting.
The oddsmatcher software highlights bets with bookmakers that are higher then the lay on a betting exchange. This is a good indicator that these odds are value at the time they are highlighted.
Oddsmatcher comes with a filter option which means you can select which bookmakers you want see value bets for. You can also select how close to the start time of an event a selection should be. So for example if you want it to only show selections that are starting withing 3 hours you can do.
Another positive for Oddsmonkey is they also provide extra place matcher and eachway matcher. Which are both software tools you can use for value betting on the horse racing markets.
Compared with other value betting software Oddsmonkey scans bookmaker odds at a much slower rate meaning that sometimes the value bet will no longer exists.
However it is also the cheapest value betting service at £17.99.
This is my recommendation for beginners and people fairly new to the world of sports betting.
(You Can Trial Oddsmonkey For Free Below)

Rebel Betting Value Betting Software
Next up is Rebelbetting.
Rebelbetting are a company that have been offering sports arbitrage software since 2008 and in the last few years started to offer a value betting service.
The software that Rebelbetting offer is a step up compared to Oddsmonkey. It scans bookmakers at a much faster rate and as such it provides a much higher volume of value bets.
Rebelbetting offer mobile, web and desktop versions of their value betting software. Which enables you to make value bets pretty much wherever you are.
The software is very professional, when a bet is flagged there is a link that takes you directly to it. Which saves valuable time and means odds are less likely to change before you can bet them.
Bets are then saved in a log which automatically updates whether your bet won or lost. 
The value betting software offered by Rebelbetting is aimed at the individual that is willing to put in time and volume.
As mentioned earlier it is a step up from Oddsmonkey and is suitable for someone that is serious about investing in value bets.
Value betting software offered by Rebelbetting costs £69 a month.
We managed to negotiate a really good deal for readers of Smart Sports Trader.

You can get a no strings attached 14 day subscription to Rebelbetting's value betting software using the link below!
Trademate Sports Betting Software
Next up is Trademate Sports who are a company that offer the best value betting software in the industry.
Trademate Sports have created a lot of excellent content on how to effectively make money from bookmakers through their excellent youtube channel and website.
One of the most impressive aspects of the software is that it is constantly being improved.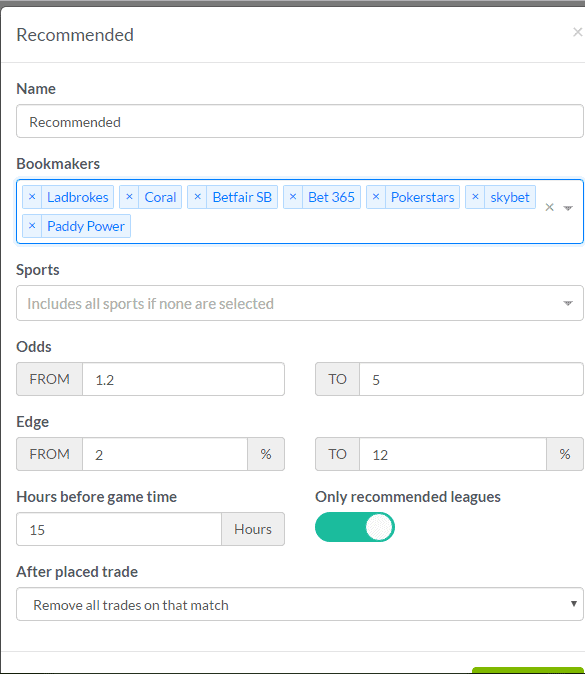 As mentioned above it is very easy to use.
You set up the bookmakers that you want to use along with other metrics such as odds, time before event starts, sports.
Also whether you want to only search for value bets at high liquidity events or across all markets.
The Trademate Sports software then flags up any value bets that match the metrics you chose to use in your filter.
Trademate Sports allows you to have several feeds so you can create several different filters and use them at same time.
You can read our full review of Trademate Sports here.
The software currently costs around £108 making the most expensive software on the list.
It is aimed at someone that wants to take a professional approach to value betting.
I would recommend a starting investment of £2000 or more to use this software.
You can get a free 2 week trial of the Trademate Sports software below.

Quote "Smart Sports Trader" in the Trademate chat to get this deal once signed up

Conclusion
In conclusion value betting is an excellent strategy to use if you are looking to make money from the sports betting markets.
It has been proven to work by a number of reputable sources and allows you to make multiple bets on a daily basis with a positive expectation.
The strategy works because you are following the bets of some of the sharpest minds in the sports betting world.
If value betting sounds like a strategy that you want to try out or even if you are still on the fence.
We recommend you take up Trademate's free 14 day trial and take a look at the results for yourself.
Click Here To Trial Trademate's Value Betting Software