April was a return to reality with a small profit of £770 being made.
The on going total before this month stood at £112,230 after 49 months.
Let's take a look at how things went in month 50.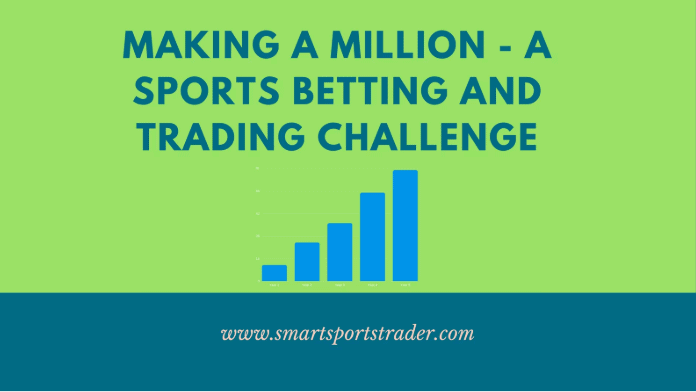 Value Betting, Matched Betting And Arbitrage 
Like most months this is pretty much 95% value betting at this point.
A late surge of profit came from a few bigger priced horses winning.
Was expecting a few Bet365 In-play £50 offers with both the all English Champions League and Man Utd reaching the Europa League.
However surprisingly there wasn't one.
Sad to see one of the last really good matched betting offers disappear.
In May there were 275 bets.

A total profit of £824 was made.
Learn About Matched Betting And Value Betting Below
Advantage Play – Casino Offers
It was a poor month on casino offers.
There are still offers around but they tend to be much smaller EV then last year.
You can still grind £20 an hour in EV from the free spins stuff over multiple accounts.
But to be honest I just don't want to spend that time in front of the computer anymore.
Would rather spend that time in other areas.
There were 75 offers completed in May


A total loss of -£4 was made
Sports Betting Results
After taking a bit of beating last month.
It felt good to book in a profitable month of mma betting.
Things weren't looking great in the middle of the month.
On the Chandler vs Oliveira card every single bet I made was a losing one.
The next week saw six winning bets in a row.
Funny how betting works sometimes.
During May I made a total of 16 bets.
A total profit of £503 was made.
In-Play Football Betting And Trading

This is a new addition to the portfolio.
It is a method that I have used in the past but decided to put more focus on during May.
Stakes used ranged from £100 to £300 depending on the odds ranges.
The first month went really well but obviously its a very small sample size.
I watched every game live.
Some selections were left as straight bets, others I traded out of depending what was happening in the game.
Won't really say to too much about this at the moment.
Will see how results go over the next few months.
A profit of £1112 was made from 25 bets/trades.
(To show that I not just making shit up. Added the video above for some transparency. Doesn't add up to £1112 exactly as there are a few other football bets and trades.)
Free Tipster Experiment
On to the tipster side of things.
This is an area where I put in a lot more volume this month.
The idea is to take the best free tips available from a number of different sources and see if its profitable long term.

Staking is very simple, I look to win around £50 for each selection.
Only 25 tips in May.

A profit of £161 was made.
The free tipsters I follow are mainly from the smart betting club's roster of free tipsters.
Along with

Nigel Seeley – Twitter, Trademate Podcast.
George Gamble – Twitter, Trademate Podcast.
Mark O,Haire – Twitter, Matchbook Podcast.
Neil Macdonald Results
This month I finished writing a review for Neil Macdonald's service which is worth a read if you are not familiar with his service.
It was a good start to the month for Neil but a bad run at the end meant I ended up with a loss.
There are a few missed bets on my part.
He had bets on Man City and Chelsea for the Champions League. Which I already had positions on before joining his service.
Then there were a few team totals bets that I didn't get matched for on Betfair.
In May I made 19 bets.

A total loss of -£59 was made.
Horse Racing Tipsters
Another new addition this month has been a group of horse racing tipsters that I have been following.
The three horse racing tipsters I started following last month are.
Quentin Franks Racing (Click Here For Our Review)
Kieran Ward Value Service (Free Smart Betting Club Tipster)
Betting Man Multiples (Free Smart Betting Club Tipster)
I have been betting all selections using the exchanges.
Quentin Franks selection I have been taking tips on horses odds above 5.0, the betting man multiples tips I have been placing as single selections.
Wasn't the best start using these horse racing tipsters.
However writing this a few days in June, a profit has now been made.
Stakes range from £10 to £20.
Only taking odds close to or above the advised prices.
(For example if a horse is tipped at 10.0 I would take no lower 9.4)
Interested to see whether this exchange only approach will work.
A loss of -£158 was made from horse racing tipsters
Trading 
Had some decent trades this month.
The Saul Alvarez vs Billy Joe Saunders was a really good one to trade.
Saunders odds were hovering around 6.0 for a while in the days leading up to the fight.
This was a good opportunity scalp 6.0-6.2.
Also ended up trading the champions league final on Betfair which went pretty well.
Going to stick up a video for this on Youtube with the reasoning behind it.
Results For May

Value Betting, Arbitrage, Matched Betting –
£824
Advantage Play – Casino Offers
-£4
Trading
£146
Sports Betting
£503
In-Play Football Betting/Trading
£1112
Neil Macdonald
-£59
Free Tipster Experiment
£161
Horse Racing Tipsters
-£158
Total Made In May

£2525
Overall Profit Since The Challenge Began
£114,755
Remaining Target
£885,245
Thoughts Going Forward
It was good to get back on track this month with a decent profit.
Euro 2020 or Euro 2021?
Starts in a week which means there should be plenty of opportunities to make money coming up.
Betting/Trading Service
After exchanging a few emails and twitter message with a few people. It does seem like there would be a few people interested in a service covering the majority of what I do.
The main focus would be on.
MMA/Boxing Tips

In-Play Football Betting/Trading

Value Betting Area

Casino Offers Area
Will have a look to see if something like that would be viable to run, probably on Telegram.
Running this blog for a few years and reviewing plenty of other services.
I do think that I could produce something that would offer a lot of value. Make a long term profit and allow members to make at least a decent second income from it.
It would be a paid service around £25-£30 a month.
(Attached below are my mma and football betting results for people that would be interested.)
For members of the mailing list I will send something concrete out in the next few weeks. You can email me at [email protected] if you are not on the mailing list and would be interested.
Been a long update but if you made it this far thanks for reading, I will be back with an update next month.
Services Used
In this section is a list of the services that I have used this month. To be transparent I do have affiliate deals with these services.

Which means should you subscribe to them through a link on this site I will receive a commission.

This does not come at any additional cost to you. In fact with some of these services I have negotiated discounted prices for readers of smartsportstrader.com.
Recommended For Matched Betting/ Value Betting/ Arbitrage
Oddsmonkey Matched Betting And Arbitrage Software (Click Here For A Free Trial)
Subscription Cost – £12.50 a month (Annual Subscription)
If you comment "Smart Sports Trader" in the chat when you sign up for a Trademate Sports trial. You will get an extended two week trial and also a 10% discount off your first month.
Trademate Sports Value Betting Software –  Click Here For A Two Week Trial
Subscription Cost – £105 a month (Monthly)
Recommended For Exploiting Casino Offers
(Readers of smartsportstrader.com can get the first month half price using the link below)
Bonus Accumulator (Click Here)
Subscription Cost – £12.50 a month  (Annual Subscription)