September was an interesting month.
Enjoyed football being back in full flow until the dreaded international break. There were some exciting UFC events to bet on and I spent much more time looking at live betting/trading football.
Let's take a look at how things went in Month 66 of the challenge!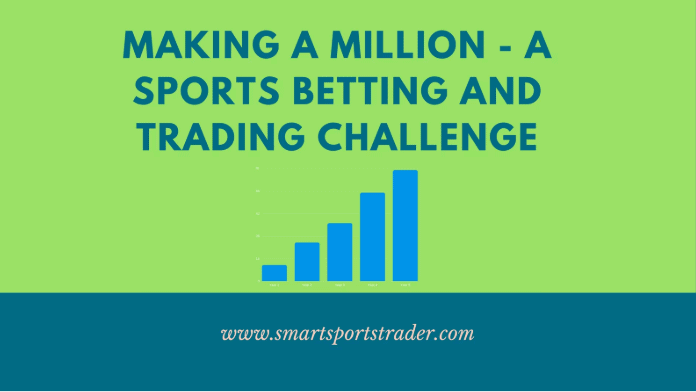 Value Betting/Trading
Not a great month for value betting which hit a pretty bad losing streak pretty early on. Didn't find any really big pre match trading opportunities either to counter the down swing.
The international break also meant a reduction in the amount of bets compared to last month.
In total there were 176 bets made in September.
A total loss of -£1197 was made.
Overall a disappointing month for value betting and pre match trading. However long term the strategy is solid, I know it works just got to continue to put the work in.
Not Familiar With Matched Betting Or Value Betting ?
Read Our Guides Below
Advantage Play – Casino Offers
Been a while but finally hit a decent win on a casino offer.
Betfair had been running a bet £25 get £5 bonus promotion for a few weeks, which was plus ev. Managed to hit a bonus round whilst staking £5 and won £651.
Overall I took part in 13 casino offers during September.
A profit of £697 was made in total.
Click Here To Read Our Guide To Making Money From Casino Offers
Smart Sports Betting Community/MMA Results
Booked in a losing month for MMA betting.
One bet that I was really confident in was Jake Collier to win inside the distance. This looked like it was going to cash in the few minutes as Collier put a beating on Barnett for most of the opening round.
However props to Barnett, he was incredibly tough and came out to finish Collier in the 2nd.
Overall I made 6 MMA bets this month and a loss of -£392 was made.
Horse Racing Tipsters
Down to following one horse racing tipster at the moment. That horse racing tipster is Kieran Ward's Value Tips (free SBC tipster.)
Occasionally I also have my own horse racing selections which are based on market movement.
From the start of September horse racing bets were in the red. This continued throughout the month and there were many days where no selections were placed.
Overall a loss of -£227 was made from horse racing.
FTS Systems
FTS is a subscription service that offers a wide range of data to help you develop profitable betting strategies.
Currently I am running 3 season long strategies. One strategy focuses on laying the draw, the second strategy is goals based backing unders. The third strategy is again a lay strategy on the match odds markets.
During September these three strategies combined made a profit of £699.
In-Play Betting (Football and UFC) And Misc Bets

Last month I started looking a lot more at the in-play betting markets for football. This is something I have looked at previously but this month I approached it slightly differently .
The video below outlines an in-play trading session on football, discussing some of the strategies used.
Alongside the in-play betting, I also follow selections from a few podcasts and articles.
The football guys at Matchbook Insights are worth a listen with Mark O'Haire in particular being pretty sharp.
A total of £1553 was made from in-play betting and misc bets.
Results For September
Value Betting – –£1197
Casino Offers – £697
MMA – –£392
Horse Racing Tipsters – –£227
FTS Income – £699
In-Play Betting/Trading And Misc – £1553
Total Made In September

£1133
Overall Profit Since The Challenge Began
£162,252