This month I crept over the 100k in total profit since the challenge began.
The moment I went over 100k profit fireworks went off, a marching band came into my office and Tony Bloom arrived in my back garden. Got out of his helicopter and gave me the double thumbs up through the window before flying away.
Well none of that happened but it was pretty cool to get over that milestone.
It's taken me a total of 44 months to get over that mark. 
So if I keep going at this rate it's only going to take another me 396 months or 33 years to hit the goal of making a million.
Let's take a look at where the profit and losses came from in November.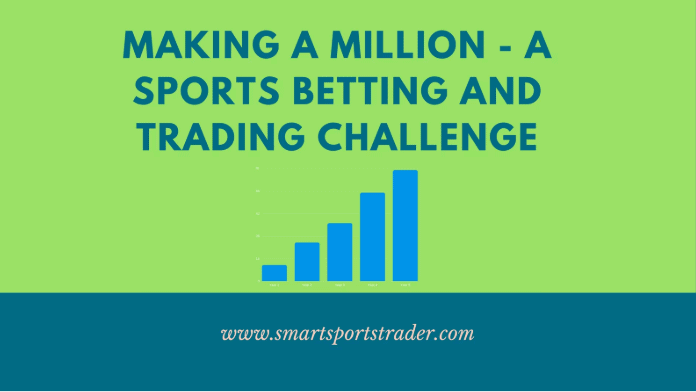 Value Betting And Arbitrage 
Not a whole lot to say about the value betting and arbitrage side of things.
The amount of volume was decent this month. I hit a rare 2up win at the end of month which is always a bonus.
Didn't do a whole lot of arbitrage betting, got whatever I could on a few limited accounts and found a casino with a sportsbook which seems to offer regular arbitrage opportunities. Will see how long it lasts.
This month a total of 450 bets were made in November.
A total profit of £789 was made.
Learn About Value Betting And Arbitrage Below
Advantage Play – Casino Offers
After crushing casino offers last months the casino gods decided to put the brakes on things this month.
At the end of the month I seemed to be losing every hand of blackjack and slots just weren't paying out.
Not much you can do when this happens, just have to trust in the process and keep putting in volume.
This month I took part in 159 offers.
A loss of -£484 was made.
Learn How To Exploit Casino Offers
Sports Betting Results
It was a winning month for my own personal betting.
Although I did get dragged back into betting on football which is something I told myself I wouldn't do.
However a positive was that it wasn't pre match(where I know I don't have an edge) it was all in-play. I have tracked my in-play football but its also combined with in-play MMA using bettin.gs.
It is tracked under the no sport category.
So although I haven't broke it down in-play betting into individual sports, I don't bet MMA in-play as much as I would like to due to the time its on in the UK. So betting on in-play on football seems to be holding its own.
Got a lot of time off this month so it's something I can go through and break down properly.
Overall I made 24 bets in November.
A profit of £346 was made.
The Basketball Geek Results
This was my second month following the Baskeball Geek.
My staking strategy was staking to win around £40 (rounding up stakes) as the odds can be anywhere from 1.8 to 20.00.
A huge £2 profit was made last month.
This month the service performed better.
After 85 bets.
A total profit of £261 was made.
Happy with these results, I did find that I was using a Bet365 account for a lot of selections which might not be good for longevity. However there were still selections that can be taken on Pinnacle and odds don't immediately plummet like other profitable services.
Going to continue with the service for the foreseeable future.
Read Our Review Of The Basketball Geek Below
Trading 
A much better month for trading in November compared to the last few.
Did some pre fight and in-play trading on both boxing and MMA this month which paid off.
Also made money following the football advice from the free FTS group along with some of my won pre match trades. When everything else was losing at the end of the month this helped to maintain some of the profit.
A total profit of £1023 was made from trading this month.
Thoughts Going Forward
After a really good month in October, November returned to what amounts to a fairly average month.
It was good to get over the 100k total profit mark as this was a minimum target I set at the beginning of the year.
This month I also started with automated betting this is something that I wrote about months, I finally found a platform I was happy with.
I invested £500 into betmarkets. Which is being marketed as the "etoro of betting" it is a platform that allows you to follow tipsters.
You set up a bankroll for each tipster, set your staking level and then it's all automated.
I am naturally pretty wary of products like this but having done a decent amount of research and seen the tipsters that they are working with. For example Nishikori the tennis tipster from Pyckio, Neil Macdonald from Bookie Insiders and several guys proofed by the Smart Betting Club.
They are all reputable and having spoken to the people behind Betmarkets the whole premise of the platform makes sense to me.
Had a few weeks on the platform now and really impressed with it all. Planning to invest some more this month and get a proper portfolio set up.
I will do a more depth review in a month or two once I have had more time on the platform.
Results For November
Value Betting, Arbitrage, Matched Betting –
£789
Advantage Play – Casino Offers
-£484
Trading
£1023
Sports Betting
£346
The Basketball Geek
£261
Total Made In November
£1935
Overall Profit Since The Challenge Began
£100,868
Remaining Target
£899,132
Services Used
In this section is a list of the services that I have used this month. To be transparent I do have affiliate deals with these services. Which means should you subscribe to them through a link on this site I will receive a commission. This does not come at any additional cost to you. In fact with some of these services I have negotiated discounted prices for readers of smartsportstrader.com.
Recommended For Matched Betting/ Value Betting/ Arbitrage
Oddsmonkey Matched Betting And Arbitrage Software (Click Here For A Free Trial)
Subscription Cost – £12.50 a month (Annual Subscription)
If you comment "Smart Sports Trader" in the chat when you sign up for a Trademate Sports trial. You will get an extended two week trial and also a 10% discount off your first month.
Trademate Sports Value Betting Software –  Click Here For A Two Week Trial)
Subscription Cost – £110 a month (Monthly)
Recommended For Exploiting Casino Offers
(Readers of smartsportstrader.com can get the first month half price using the link below)
Bonus Accumulator (Click Here)
Subscription Cost – £12.50 a month  (Annual Subscription)