Month 61 has been and gone in the "Making A Million Challenge."
Building on a record month in March where for the first time a fix figure profit was made.
April was going to be interesting, let's take a look at the results.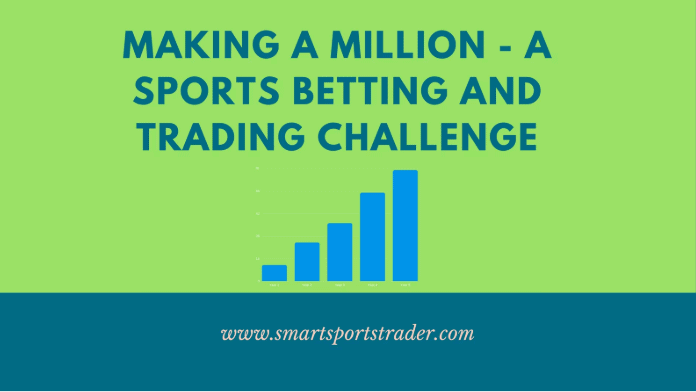 Value Betting/Trading
Another strong month for value betting and trading.
Although with football nearing the end of the season, my usual strategy wasn't as straight forward. Some teams have bigger motivations then others with potential relegation/promotion. Whilst other teams had little to play for.
This means more volatility in the football markets.
Bet365 also seemed to have settled down a little with their boosts. Initially they seemed to be offering value on almost every game, however now they are being a little bit more selective.
In total there were 512 bets made.
A total profit of £3042 was made.
Not Familiar With Matched Betting Or Value Betting ?

Read Our Guides Below
Advantage Play – Casino Offers
It was the lowest volume month in years for me when it came to completing casino offers. Just doesn't seem to be as much around as there was. However I will also admit that I am not actively looking every day.
Let me know in the comments if your still doing a lot of casino offers?
During April I did 10 offers.
A profit of £190 was made.
Smart Sports Betting Community/MMA Results
A profit of £690 was made from 9 bets this month on the pre fight MMA selections.
I also bet in-play on MMA using Betfair but I added these results to the value betting/trading section. The pre fight bets I send out for free on Discord.
If your interested in receiving them email at [email protected] and I will send you the link.
Horse Racing Tipsters
The horse racing tipsters are holding steady at the moment.
CD Systems is having a a pretty bad year but has a stellar record behind it.
I always find it tough following tipsters, as you always wonder whether the downswings are due to variance.
Has something changed in the market?
Do they still have an edge?
The other two horse tipsters made a profit this month.
Quentin Franks Racing – Betting odds 5.0 or above using only exchanges (Click Here For Our Review)
Kieran Ward Value Service (Free Smart Betting Club Tipster)
A total of £354 was made from horse racing.
Staking £10 on horses above odds of 10.00 and £20 stakes on odds below 10.00.
A New Tipster Emerges
Hansbury Racing is a tipster that readers have emailed me about. It's a service that multiple stellar reviews. Including the Smart Betting Club who recently showed in their review that the service is very profitable even betting at Betfair SP.
So it made sense with football winding down to look at adding more on the horse racing side. Hansbury Racing looks like it should be a good addition.
Click Here To Read More About Hansbury Racing
Golf
It was a poor month for Golf betting.
PGA Profit has not performed very well this year, my own value selections (based on what the markets is doing) also under performed this month.
Overall a loss of -£463 was made betting on golf.
Misc
Misc includes bets from free tipsters such as Matchbook Insights.
Along with other bets/trades that I don't track in any of the above categories. For example live bets if I watching a game. However I do add these to my daily P/L at the end of every day.
From this section a profit of £506 was made.
Thoughts
Overall it was another strong month. With football winding down and no big international tournament in the summer profits are likely to drop.
The horse racing markets are still something I would like to get more involved in. From talking to people it seems like one of the sports where following tipsters is a good option.
Other then that I think its just a case of continuing to scale what is working at the moment. Which is mostly value betting and a few strategies of my own that are based on beating the closing line.
I do want to keep this blog interesting, as I realize just writing profits from strategies I am not willing to give away will become tiresome. So if you do have any interesting tipsters or services, you would like me to trial let me know.
Results For April
Value Betting- £3042
Casino Offers – £190
Golf – –£463
MMA – £690
Horse Racing Tipsters – £354
Misc – £506
Total Made In April

£4319
Overall Profit Since The Challenge Began
£149,748
Recommended For Matched Betting/ Value Betting/ Arbitrage
Oddsmonkey Matched Betting And Arbitrage Software (Click Here For A Free Trial)
Subscription Cost – £12.50 a month (Annual Subscription)
Trademate Sports Value Betting Software –   Click Here For A Two Week Trial
If you comment "Smart Sports Trader" in the chat when you sign up for a Trademate Sports trial. You will get an extended two week trial and also a 10% discount off your first month.
Subscription Cost – £105 a month (Monthly)
This blog post features affiliate links.


Which means that if you subscribe to a service through a link on this site I will receive a commission.

This does not come at any additional cost to you. In fact with some of these services I have negotiated discounted prices for readers of smartsportstrader.com.

I only recommend services I am using or have used in the past.