2021 had started really well with strong profits in Jan, Feb and March.
Jan – £3209
Feb – £2825
March – £2295
However this month was frustrating at times and also a reminder about the reality of betting.
It's not always going to go your way.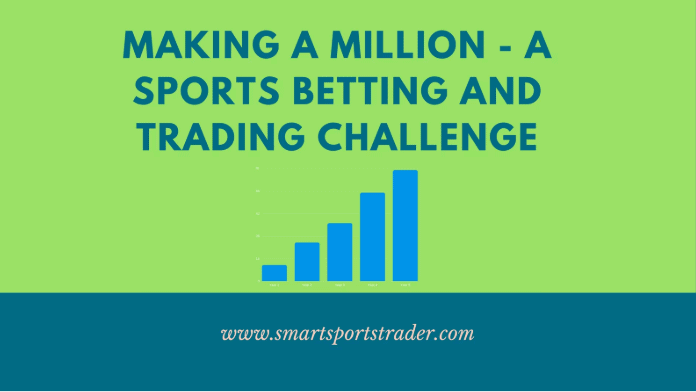 Let's break down the results for April.
Value Betting, Matched Betting And Arbitrage 
In April it was basically 95% value betting and 5% matched betting.
The grand national was great from a value betting and matched betting perspective. Bet365 ran a great offer paying back 50% of your stake on each way betting.
I know a few people that multi account on a large level who cleaned up on this offer and sat back for the rest of the month. It was a reminder of the golden days of matched betting.

Personally I managed to land a nice win on Balko Des Flores each way at odds of 101 which propped up the profits for the month.
In April there were 402 bets.

A total profit of £1473 was made.
Learn About Matched Betting And Value Betting Below
Advantage Play – Casino Offers
Another month of low volume on the casino offers.
The last few months things have really dried up with there being less weekly recurring offers available.
Due to this my focus has more been on the betting and trading side of things.
Hopefully things will pick up again but if not then its just a case putting more time into where the opportunities are.
There were 49 offers completed in April


A total profit of £214 was made
Sports Betting Results
My sports betting results have been really solid for a number of years now.
One of my big weaknesses in betting is not adjusting stakes appropriately, I am pretty happy to win or lose a few hundred pounds in a day. Its the norm and I am comfortable with it.
But when daily losses start to creep closer to the thousands its uncomfortable. If you want to start winning more though you have to also accept that there will be be bigger losses.
This month I decided that I really should be betting much more on spots where I am extremely confident I have a decent edge (mma betting.)
Well this month didn't go well.
I thought there were some big value opportunities during April. Timofey Nastyuhkin was big value in my eyes at odds 5.5, when in reality I had him closer to 3.0.
He went on to get wiped out in about a minute by Christian Lee in a One FC bout.
Usman to beat Masvidal by decisoon at 1.95 was another spot that had a lot of value, coming off his KO of Burns it seemed that Usman's finishing ability was being a bit overrated. Especially given how durable Masvidal had been in the past.
That was the story of the month really.
Was happy with the bets I made it was just an inevitable run of losses that came in the month I decided to stake a bit more aggressively.
During April I made a total of 28 bets.

A total loss of -£1376 was made.
Free Tipster Experiment
There have now been 603 total bets for the free tipster experiment and things had been going really well up until April.
The idea is to take the best free tips available from a number of different sources and see if its profitable long term.

Staking is very simple, I look to win around £50 for each selection.
(Graph says March but these are results from April)
It was pretty much a steady decline for the most of the month.
Before a slight recovery at the end.
There were 62 selections.

A total loss of -£354 was made.
I withdrew my money out of Betmarkets during April which meant that the number tipsters I followed dropped quite considerably.
Below is video discussing my results and overall thoughts after using Betmarkets for 5 months.
So the tipsters I now follow are mainly from the smart betting club's roster of free tipsters.
Along with –
Nigel Seeley – Twitter, Trademate Podcast.
George Gamble – Twitter, Trademate Podcast.
Mark O,Haire – Twitter, Matchbook Podcast.
Below are the results since the start of the free tipster experiment.
Neil Macdonald Results
April saw a new addition to the portfolio.
Having followed and bet Neil's selections on Betmarkets for a while. I then started to follow his official service.
I have been betting his selection to £25 a point, which in hindsight is too low.
Going forward I will be increasing that to £50 a point.
It wasn't the strongest month for Neil's selection and there were a few missed bets on my part.
At the end of the month a very small profit had been made.
There were a total of 55 bets in April

A profit of £30 was made.
Click Here To Read More About Neil Macdonald's Football Service.
Trading 
In April I really made a renewed effort to do more trading.
Probably due to the fact that I knew the month wasn't going too well and with the slump in volume  on casino offers. I needed to start looking at other areas more.
The month started well with a decent profit trading the grand national, I managed to profit pre fight trading most UFC main events. Jake Paul vs Ben Askren was another market that traded well.
When watching football live there were a few opportunities that looked fairly obvious.
The Real Madrid game was good example of when the market got things pretty wrong. As the under 2.5 goals market was 1.6 pre match.
However the game started really open with Chelsea getting 2 or 3 great chances early on. Two goals were scored in the first half and I hedged out for a nice profit.
Overall some renewed motivation to start trading again worked out this month.
During April I made a £757  profit from trading.
Results For April
Value Betting, Arbitrage, Matched Betting –
£1473
Advantage Play – Casino Offers
£214
Trading
£757
Sports Betting
-£1376
Neil Macdonald
£30
Free Tipster Experiment
-£354
Total Made In April

£770
Overall Profit Since The Challenge Began
£112,230
Remaining Target
£887,770
Thoughts Going Forward
Although not the best month in terms of profit made.
I put a lot more thought into my betting and trading over April. In previous months where bigger profits were made I felt pretty much on autopilot.
Value betting and casino offers is very much just clicking buttons without that much thought process.
So this month when things weren't going great it was refreshing to have a deeper think about other area's that I could find a profitable edge in.
At the start of May I also started following Premier Greyhound Tips.
It is a service that has been running since 2014 which is a good sign. Has been very profitable long term and so far I have found the odds quoted to be achievable.
Hopefully alongside Neil Macdonald's service it will start to bring it some extra profit and I can continue to add more profitable tipsters whilst gradually increasing my turnover.
If you made it to the end thanks for reading I will be back with an update in June.
(Also if you want to take a look at the services I use to make money long term you will find them below.)
Services Used
In this section is a list of the services that I have used this month. To be transparent I do have affiliate deals with these services.

Which means should you subscribe to them through a link on this site I will receive a commission.

This does not come at any additional cost to you. In fact with some of these services I have negotiated discounted prices for readers of smartsportstrader.com.
Recommended For Matched Betting/ Value Betting/ Arbitrage
Oddsmonkey Matched Betting And Arbitrage Software (Click Here For A Free Trial)
Subscription Cost – £12.50 a month (Annual Subscription)
If you comment "Smart Sports Trader" in the chat when you sign up for a Trademate Sports trial. You will get an extended two week trial and also a 10% discount off your first month.
Trademate Sports Value Betting Software –  Click Here For A Two Week Trial
Subscription Cost – £105 a month (Monthly)
Recommended For Exploiting Casino Offers
(Readers of smartsportstrader.com can get the first month half price using the link below)
Bonus Accumulator (Click Here)
Subscription Cost – £12.50 a month  (Annual Subscription)