Watching and betting on football for a living is probably the dream job for thousands if not millions of people. However actually making long term profits from betting on football is much harder then it sounds.
The majority of the most popular tipsters on twitter, are actually more interested in providing you with losing tips (read the explanation here). 
Readers of this blog will know all about social media tipsters.
Like the Badman Tipster and how they operate.
So who are the best football tipsters on twitter?
It is pretty tough to actually any legitimate  football tipsters on twitter.
However here are a few accounts that I believe are actually worth following.
Who Are The Best Football Tipsters On Twitter
One of my first recommendations is not actually a tipster. It is the account of Matchbook and this is specifically because of their insights section. Matchbook have gathered experts across a range of sports and provide excellent betting previews for upcoming games.
In football they have Mark Stinchcombe who often provides really thorough analysis of upcoming games. Highlighting potential value bets within the betting exchanges. There are no silly challenges or progressive staking. Just a well researched logical approach to finding value in major football markets.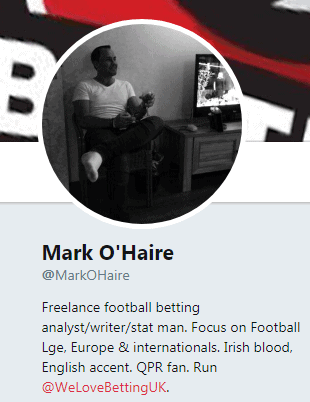 Mark O'Haire is a football analyst and writer. Providing write ups for the likes of 188bet and Eastbridge. I first came across Mark's work from his excellent write ups for the broker Eastbridge. Often highlighting value in the Asian handicap markets. His account is one worth following if you are looking for professional football tips.
Eredivisie Picks is a twitter account that is linked to a service that focuses on betting in the Dutch leagues. They often provide free analysis and previews.
I like the fact that they are specializing in some of the smaller football markets as this is often where value is hidden. Eredivisie Picks don't have much of a following but I have been impressed by the betting previews they are writing.
Again you won't find any silly £10-£1000 challenges. Just a solid approach to finding value from the Dutch football markets.
Run by the previously mentioned Mark O'Haire. The we love betting twitter account has some excellent football betting previews. With numerous football tipsters providing free picks across a range of football competitions. They are an excellent resource when looking for well researched  football tips.
Pinchbet is a twitter account that focuses on betting the in-play markets. Most often taking their odds from Bet365. Although they do use the same affiliate model many social media tipsters use. They do actually seem to put some effort into finding value in-play.
Often looking at smaller less known leagues such as the Russian second division or Czech U21 leagues. Pinchbet are very active and provide tips on a daily basis.
I would never suggest diving in head first with any free tipster you find on twitter. However I do think they are useful for highlighting potential value bets. Then using that information to do your own analysis before placing a bet with your own money.
If your looking for a tipster with a proven record. The Master Football Tipster has made £648 from £10 stakes since launching, you can see this from the graph below.
You can trial this tipster for £1.99 and if your not happy get a full refund.
Click Here To Trial The Master Football Tipster.
Interested in other profitable betting tipsters here is the top Biathlon Tipster we have come across.