September brought month 78 in the making a million challenge!
After a breaking even in August and a below par year so far, I was really hoping to kick things into gear in September.
Did that happen?
Let's take a look!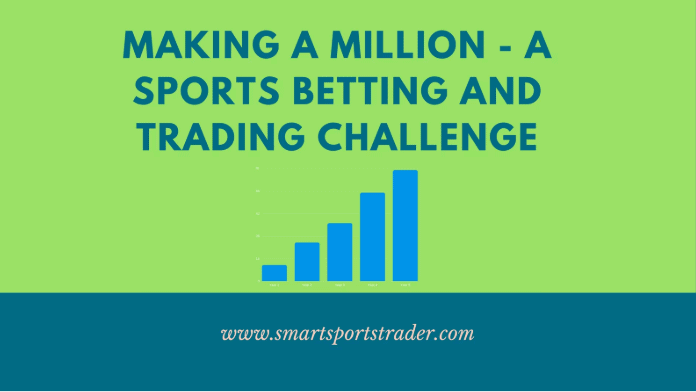 Value Betting And Trading
Really up and down month for value betting. Getting above £1k profit at one point then into the red before climbing back above 1k. Eventually hitting a string of losers to end the month with a small profit.
Value bets are mainly based on reading the market and looking to beat the closing line. The occasional value bet is made with remaining soft bookmakers.
Overall a profit of £437 was made after 250 selections.
Click Here For My Recommended Value Betting Software With A Two Week Free Trial.
MMA Betting
Low volume for MMA betting with a total of 9 bets being made.
A profit of £184 was made from betting on MMA.
Only bet I didn't really like this month was Yanis Ghemmouri. Which I jumped on without proper research not realizing that he was fighting a weight class above his usual weight. As soon as I saw him in the cage with William Gomis I knew it wasn't going to be a good night.
Rookie mistake that I shouldn't be making after so many years betting MMA.
Bets And Beers Telegram Group
Bet and Beers had a great month in September making just under 54 points profit. 57 of those points were made from full time lay the draw results.
Given that I follow lay the half time draw and was following the first half goal strategy my results were different.
It's been a rough few months for the half time LTD and FHG methods. The drawdown has been about –£3000 with the timing of adding FHG to the overall portfolio not being the best.
Following Bets and Beers has been profitable this year with the total profit being £500.This profit is made to £50 stakes however so it is around 10 points up overall.
If I had followed every Bets and Beers strategy I would be up 217 points. Dropping my stakes to £10 to account for the larger lay odds would have seen me being significantly better off.
By only following the system which suits the odds I like to lay at (around 3.0 max) it's cost me. However two months ago this obviously looked very differently with my results hitting +£4000.
Going to continue just following the HTLTD until the end of the year. Look at where my bankroll is and reassess things then.
In September a loss of -£1066 was made.
FTS Systems
FTS started off profitable in August with a profit of £407 being made. 
In September however things swung the other way and a loss of -£690 was made from 11 systems. Not a huge amount to write about here. Going through the staking for 11 systems would take too long however they are based on the FTS software which uses historical results and various models/from to find profitable trends.
Football Trading Club
Football Trading Club is a service that I reviewed recently and historically has been very strong. However to carry on the recurring theme it had a tough month.
I follow the home win selections and home double chance selections pre match. Also I take the occasional in-play bet when I am around at the computer and they come through.
Pretty frustrating month with one or two partially matched bets going on to win and every in-play bet I made losing. Again it just seemed to be the run of things in September. Overall the Football Trading Club is showing consistent profit long term and I won't be changing anything.
Overall a loss of -£366 was made.
Read My Football Trading Club Review Here
Everything Else
So there is quite a bit more that I followed in September. These strategies tend to be much lower volume then everything else. Combining them makes more sense then going through each one individually.
Football Bet Data

My Trading/Betting
A profit of £183 was made here.
September 2023 Total
Bets and Beers – -£1066
Value Betting/Trading – £437
MMA Betting – £184
FTS – -£690
Football Trading Club – £-366
Misc – £183
Total Made In September

-£1318
Overall Profit Since The Challenge Began
£182,885
Thoughts Going Forward
Month 78 marked a record losing month.
I will admit it stung a little bit and its the longest period I have been without making a profit (3 months) since the challenge began. After last year which was a record winning year (Just under £40k profit)  it looks very likely that this year will be the lowest yearly total since I started. 
Variance has been a big part as it always is.
In both last years record profit and this years likely record low profit. My approach in both years has largely been the same.
My wife believes that since moving house the feng shui is off in my work area. Which is why the last 3 months haven't been great. I laughed this off but writing this 5 days into October and I'm already sitting at around -£1k.
Feng Shui? Voodoo? Gypy Curse? Possibly. 
My value bets are still consistently beating the closing line, so in theory these results have to turn eventually. It is tempting to make changes when things aren't going right but I will wait until the end of the year before doing anything.
Hopefully you had a better September the I did, see you next month for the next update.